At Equitation Science International, our mission is to educate horse riders and handlers in equitation science to enable efficiency and safety in all horse/interactions. Equitation Science is an emerging field that explains why horses behave as they do, their biomechanical patterns and limitations and on this template, how we can modify horse behaviour. It explains what is likely to work and what is unlikely to work in horse training, and how we can communicate more effectively with horses. Equitation Science is not an ideology but rather a body of knowledge that provides evidence-based 'first principles' that ensure safety, efficiency, best-practice welfare and ultimately sustainability. It informs all disciplines and ideologies of horse training and horse sports in a non-partisan way, and privileges horse welfare as the top priority. The Diploma of Equitation Science is a horse training and coaching qualification that provides a full understanding of horse training and enables the most effective pathways to all equestrian disciplines and activities.
We strive to modernise horse training with the latest scientific data on the natural behaviour of horses, their learning processes, human and equine biomechanics, handler and rider effects, and attachment.
When horse training is aligned with these elements, it becomes optimally successful and safe, thus greatly improving horse welfare in the equestrian sport.
We aim to use the most effective teaching techniques to disperse this information around the world and, in doing so, liberate horses and riders from the trappings of tradition, mythology and hearsay.
"The best thing we can do, as horse owners, is ask ourselves if our practices really are the best for our horses and educate ourselves to find out."

Prof Paul McGreevy, University of Sydney
Dr Andrew McLean, PhD (Equine Cognition & Learning), BSc (Zoology), Dip Ed
Co-Director, Equitation Science International
Winner of the highest Australian science award, the Eureka Prize for Science, Andrew McLean is in great demand as a trainer, coach and speaker. In addition to establishing the Australian Equine Behaviour Centre, he has written 5 books, including an international best seller, and authored 35 peer-reviewed journal articles.
An accredited coach for more than 30 years, Andrew's own riding achievements include winner of the advanced section of the famous Gawler Three-Day-Event, representing Australia in Horse Trials, short-listed for the World Championships, competitor at State and National events in FEI level Dressage and Eventing, and Show Jumping to Grand Prix level. He also held a racehorse owner/trainer licence, and raced bareback in Australia and New Zealand in the 1970's and 1980's.
Andrew continues to conduct demonstrations at universities and conferences around the world, including in Australia, Europe, South Africa, the United States, Canada and New Zealand. Prestigiously awarded an Honorary Fellow of the International Society for Equitation Science for his ongoing contribution to equitation science, he was instrumental in hosting the 1st International Equitation Science Symposium, held at the AEBC in 2005. ISES conferences continue today throughout the world.
Andrew also began training elephants in Nepal in 2007, which led to the establishment of the not-for-profit HELP Foundation (Human Elephant Learning Program), of which he is now Senior Vice President. This cooperative project focusses on the optimal management, welfare and training of elephants in Asia using innovative training techniques based on learning theory and the elimination of punishment.
Download CV  (includes list of publications)
Manuela McLean, NCAS Level 2 (Dressage Specialist), BSc (Biology), Dip Ed
Co-Director, Equitation Science International
Manuela McLean is the wife of world-renowned Equitation Scientist, Dr Andrew McLean. She and Andrew co-authored  "Horse Training the McLean Way" and more recently "Academic Horse Training".
With Andrew's focus on training and Manuela's focus on getting the message across to riders, they have developed a rider- and horse-centred systematic approach of training horses on the ground and under-saddle according to the principles of learning theory. The signals or aids used are shaped progressively, and the horse's responsiveness to them are the benchmark for progression. Calmness, relaxation and safety are the base for all training with the rider having a clear understanding of the signals he/she needs to use to ride and train their horse.
As well as her deep understanding of equine behaviour and training, Manuela's own expertise comes from years as a competitor and educator. Her ability to communicate training and riding concepts in a clear and systematic format enable her to improve the performance and confidence of her pupils. Manuela trained Paralympian Joanne Formosa's stallion to respond to Joann's unique aids, helping them achieve Gold at the London 2012 Paralympics.
Manuela's specialty is improving the rider's posture and balance to enhance the delivery of their signals and to that end, she has developed multiple techniques for riders at all levels to improve their training. Her lessons are geared to the standard of horse and rider, they are easy to understand and produce positive outcomes. Terminology such as 'inside leg to outside rein', 'throughness', 'half-halt' and 'bend' are simply explained to make sense while at the same time they are achievable without force. Manuela also specialises in fixing common problems such as tension, 'laziness', heavy mouthed, crookedness, as well as rider confidence, competition nerves and postural problems. Manuela's coaching style is encouraging and positive, she is approachable and friendly enabling riders to feel confident and successful in their training.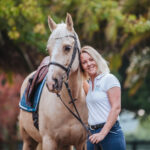 Sophie Wyllie, BComm, Dip MA
Managing Director, Equitation Science International
Given her first pony at the age of two and having grown up in the McLean household, Sophie has been immersed in the horse world all her life. She has ridden horses competitively for most of her life in eventing up to CIC1* and showjumping to 1.20m, but whilst horses and training are her passion, she has maintained her own horse riding activities as her hobby, rather than her profession.
After graduating with a Bachelor of Communications and a Diploma in Marketing and Communications in 2009 from RMIT, Sophie worked in advertising, then transitioned into management at the Australian Equine Behaviour Centre, before building and now managing Equitation Science International. Passionate about following in the footsteps of her parents to create more sustainable horse-human relationships, Sophie brings a highly organised, capable and personable approach to her role as Business Manager.
As her siblings pursue the path of horse training, Sophie is driven to work with and educate people. Her vision for Equitation Science International is to enable others to understand how horses learn and, thus, improve training, communication and, ultimately, horse welfare. For Sophie, it is a pleasure to work alongside like-minded people who are working towards creating a better connection between themselves and their horses, while managing the day-to-day activities of one of Australia's leading training centres.
Helen Godfrey, BAgrSc, Dip Ed, NCAS Level 1 (Non-Jumping), NCAS Level 1 (General)
Course Coordinator, Equitation Science International
As a professional educator, Helen Godfrey has been a driving force behind the development of ESI's Diploma of Equitation Science, turning decades of Dr Andrew McLean's research, competition and coaching experience into clear, accredited curriculum. With numerous qualifications herself, including NCAS Level I (Non-Jumping) and (General), Helen is devoted to teaching others, particularly in the area of coaching.
A student of Manuela McLean for more than 20 years and a graduate of Equitation Science International, Helen came on board during the centre's establishment and, since then, has been heavily involved in structuring its courses. As Course Coordinator, Helen also works alongside clinicians, such as Dr Andrew McLean, to monitor student assessments and provide support during practical exercises at the centre.
A coach with her own small client base, Helen sees the positive implications of learning theory for horse and rider firsthand. Not only does learning theory promote horse welfare, but it's a logical and sequential framework for both learning and problem solving, in turn producing more confident riders. In her role at Equitation Science International, Helen aims to share this education with more horse professionals and enthusiasts.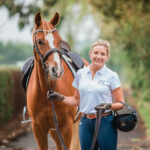 Kristy Kelly
Administration, Equitation Science International
Kristy's love for horses began as a child when she enjoyed riding after school and on the weekends with her sisters and friends.  Now all these years later, Kristy is a busy Mum of two with her own daughter now enjoying riding.
Kristy has a beautiful young Warmblood gelding named Nemo who has been started with Andrew McLean's son Alistair McLean here at the Australian Equine Behaviour Centre. She hopes Nemo will make a wonderful dressage partner in the near future.
In our office here at ESI, Kristy answers email and phone enquiries, manages orders and organises lesson and clinics – she loves interacting with other horse lovers and watching people develop a happy relationship with their horse.
Kristy was previously a Myotherapist and also has a background in administration, commercial and project management.  Equitation science is a new area Kristy is really enjoying learning about!
Nicki Stuart
Instructor & Student/Trainer Support, Equitation Science International
Nicki has competed in dressage, show-jumping and eventing, gained her Equestrian Australia Coaching qualification in 1996, and has been principal trainer at Kersbrook Equestrian Centre for three decades.
After being introduced to Equitation Science in 2000, Nicki found how positively its theory and techniques enabled her training and assisted her clients to produce reliable, relaxed horses. Her contributions to the development of Equitation Science include producing the Academic Horse Training DVDs, managing the 2nd edition of the Equitation Science text and co-authoring 'Go Forward, dear' with Dr Andrew McLean.
Her holistic approach to training encompasses a keen interest in developing organised, effective, independent riders whose training is enhanced by evidence based techniques. Nicki is dedicated to improving horse welfare and fostering harmonious relationships between humans and horses.
Nicki has joined the ESI team to provide student support and assist trainers of the Diploma of Equitation Science. She is currently undergoing her RTO Trainer & Assessor qualifications to eventually move into a Training role.