Bridget Dougherty, Upper Hutt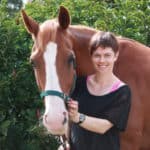 Bridget Dougherty, Upper Hutt
bridgetdoughertynz@gmail.com
Diploma of Equitation Science
I've been involved with equitation science since 2007 when I first attended one of Andrew's clinics in New Zealand. After visiting the AEBC later that year, I came home with the role of NZ clinic coordinator, which I still hold. Equitation science totally transformed my approach to riding and training. I get so much joy out of developing safe and fun horses who are a pleasure to handle and ride, and helping others to achieve the same with their horses and ponies. In my training sessions I draw on the range of tools that equitation science provides, from negative reinforcement through to clicker training, biomechanics, and a range of desensitisation techniques. This toolkit expands as I learn more and the field of equitation science develops, and I enjoy sharing this with my clients.
Because of my background in adult learning and training (and learning in general), from 2010 I also helped to develop ESI's Certificate in Equitation Science (now superseded), How horses learn short course, and Training Toolkit.
Based in Mangaroa, Upper Hutt, I can provide a range of services, from groundwork, problem-solving, and 1:1 coaching through to running group sessions and kids clinics.