Dallas Hopkins, Christchurch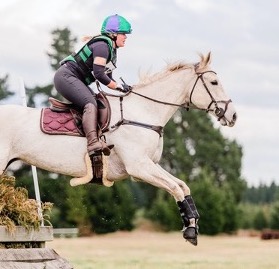 Dallas Hopkins, Christchurch
Diploma of Equitation Science
Dallas has been riding since she was 8. Sneaking through the fence into the neighbour's property every day to cuddle the cutest palomino pony called Flicker. Sh was obviously persistent (or maybe just annoying), because that neighbour eventually gave her the pony. Since then, like most people, her riding journey has been a rollercoaster of successes and failures with many lessons learned. Never once losing her love for horses and love chasing goals with them. Nothing beats a happy partnership between horse and rider.
Dallas is actually a fully qualified chartered accountant but gave up the desk life to pursue her dream career of training horses. She has numerous wins and successes to her name including NZ Development Squad for dressage, 5th in the FEI Nationals and 3rd in the South Island Young Event Horse. She runs a 4 horse competition team in Eventing, Show Jumping and Dressage.
With a very intuitive and natural way of communicating with horses, she provides a high calibre of schooling or foundation training to all horses sent to her. She has a relatable method towards coaching others to apply principles and learn technical skills, which she can tailor to suit all levels of rider. Dallas loves the clear communication that ESI provides between horse and rider, encourage a harmonious and relaxing interaction at all stages of learning.
Dallas takes on horses for schooling or starting at her Christchurch base, and coaches/mentors all over the South Island.