Erica Posely, California USA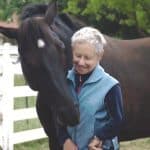 Erica Posely, California USA
Diploma of Equitation Science
Erica is a rider biomechanics expert who specializes in lunging riders to improve their seats using modern lunging methods. She has been studying rider biomechanics since the early 90's. Her life time with horses includes showing horses in hand, jumping, eventing, dressage, and teaching all ages of riders. Erica has trained and competed horses all through the US national levels, earning her USDF Bronze medal. She is also a certified Ride With Your Mind coach and just finished her Diploma of Equitation Science.
Erica has also been training in karate since the 90's (3rd degree black belt), and enjoys other sports such as tennis, surfing, and skiing. This exposure to a variety of sports gives her a good understanding of the many ways to teach and communicate with riders. She also has a degree in philosophy( cum laude from UCLA) which helps her have the tools to communicate clearly during riding and lunge lessons, and teaching operant conditioning. During a lesson, Erica can give her students the immediate, in the moment feedback that is essential to improving their riding.
Erica's education includes training with the best seat experts in the USA, and clinicing with amazing teachers such as the Baron von Blixen Finecke, Mary Wanless, Dietrich von Hopffgarten, and others. Unfortunately several of these teachers have passed, and Erica feels very committed to carrying on the tradition of educating riders in classical Dressage. Erica has studied in Germany at at the Reitnstitut von Neindorff under the head rider Mellisa Simms. She also traveled many times to the UK to study with Mary Wanlees and her head coach Ali Wakelin. Ali was the person who introduced Erica to Andrew's ground work and set her on the path to eventually train with the McLeans, and take the ESI course.
"It was about four years ago when I had the opportunity to work with three young horses, that I realized that just having good rider biomechanics would not be enough. After almost getting injured by one of the young horses, who was a very fearful horse, and getting bucked off another young mare, I remembered Ali Waken telling me about Dr Andrew McLean. Ali was teaching Andrew's system of ground work and operant conditioning along with her rider biomechanics."
This was a beginning of a journey for Erica and she has never looked back. Erica contacted Ali and asked if she could come and study Dr. McLean's system with her, and Ali agreed. She went several times to the UK to work with Ali, then was lucky enough to get into the ESI short courses in Canada with Andrew and Manuela in 2017 and 2018. In addition Erica decided to travel to Australia to stay and study with the McLeans for 2 weeks in 2017. She started taking the Equitation Science International course in 2017 and received her diploma this September. During this time, she applied what she learned to the training of the mare that had bucked her off.
"I have never felt so good about my experience of training any horse, and I know it was having the help of the ESI team, especially my coach Helen, who would patiently listen to my issues and guide me according. This experience has been life changing in my approach to training and how I understand the behavior of horses; it has given me a more holistic approach to my teaching and helped me become an advocate for the horse's well being. I can now help riders not only sit better on their horses, but help them understand how horses learn and process information, resulting in better communication with their horse. I'm very excited to bring my new found knowledge to the riders in my country, who have not been exposed to Dr McLean's work yet. My hope is that as riders understand learning theory, and both the horse's cognition and ethology, horses will be treated more humanely.
My goal is to incorporate this knowledge into my coaching and be able to offer a complete package to my students – to create a well balanced rider with an understanding of how horses learn. "
Erica lives and teaches in the Santa Cruz Mountains in California, but she travels widely for clinics and workshops throughout North America.