Jonathan McLean, Clonbinane, VIC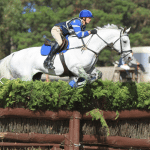 Jonathan McLean, Clonbinane, VIC
NCAS Level 1, Ass. Dip ES
Jonathan's first riding experience was in King Island as a young boy of seven, following closely in the footsteps of his father who was a distinguished show jump rider and his mother, a very successful coach and dressage rider.
With his younger brother, he began pony club and loved to ride around the coastal hills of King Island, jumping and galloping over this rough terrain.
In 1986, Jonna became interested in equine training in Tasmania. He then helped begin the Australian Equine Behaviour Centre (AEBC) with his brother Andrew Mclean and Andrew's wife Manuela for 10 years in Clonbinane, Victoria. These training principles, which have been backed by extensive research, to successfully train and retrain horses in Australia and internationally, enabled him to create his own opportunities in 1997.
Jonna was contracted to work at Morningside Pastoral Co, managed by Peter Clarke between 1997-2000. He was responsible for breaking in and training local and international stock, and managing the horses' transport to Hong Kong for international sales. In addition, Jonna managed the arrival and care of stock from Hong Kong to breeze-up and point of sale, including habituation to the different environment, and education of track riders and ground staff.
In 2001, Jonna established his farm called Landsend, a beautiful property tucked away in the bushland of Clonbinane, Victoria, where he lives with his partner Caroline Bentley, a highly successful coach and dog trainer in her own right.
Here, he has produced elite performance horses from introductory to advanced international level. Breaking in and educating horses for eventing, dressage and racing for clients and conducting lessons, clinics and workshops in riding and equitation science.