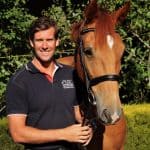 kevin@equitationscienceafrica.com
Diploma of Equitation Science, BA,
Equitation Science Africa
In establishing a predictable and controllable environment for horses it is vital we provide a world that is clear and consistent without blurry language and inconsistent training. Using evidence-based knowledge and techniques based on learning theory, behaviour science, ethology and biomechanics one can improve safety, performance and horse welfare. This is the basis of Equitation Science, which measures and studies the horse-human interaction in all equestrian areas with goals of improving horse-human interaction, training, handling and care practices to be ethical and sustainable.
Equitation Science Africa provides horse and rider training using the principles of learning theory to enhance performance, safety and welfare.
SERVICES:
Horse training
Foundation training
Behaviour modification
Coaching/Lessons
Lectures
Clinics
Kevin Ovenstone
Kevin's experience and expertise includes foundation training, retraining horses with behavioural issues and general training for dressage, show jumping and eventing. After spending the last few years training with Dr. Andrew McLean while living and working as one of the senior trainers at the Australian Equine Behaviour Centre, Kevin has recently moved back to South Africa and is now the founder and director of Equitation Science Africa. He is excited to train horses and coach people to improve their horse's performance and welfare, as well as the horse-human interaction and the safety of riders. He accomplishes this using his knowledge of the emerging and progressive discipline of Equitation Science, which includes the evidence-based principles and techniques of learning theory, behaviour science, ethology and biomechanics.