Melanie Boot, Sunshine Coast , QLD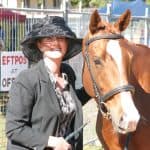 Melanie Boot, Sunshine Coast , QLD
peteandmelboot@hotmail.com
CPA, ACA, BSc (Hons), Ass. Dip ES
Mel has owned and trained her own dressage horses for the past 20 years. She adopts the AEBC system for her training as it is based on learning theory and is clear, consistent, ethical and fully transparent in terms of every training step. Mel is currently doing a research PhD at Sydney University in the area of Equitation Science and Welfare, supervised by Professor Paul McGreevy and Dr Andrew Mclean.
Mel is based on the Sunshine Coast, QLD and is available for lessons and clinics in the area.
Please e-mail Mel to discuss any requirements you may have, to discuss any problems you may be having with your horse, or for more information on the AEBC system or ESI.