Melanie Bulmahn, Tangstedt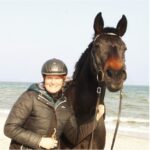 Melanie Bulmahn, Tangstedt
Diploma of Equitation Science, Master Teacher of the Ecole de Légèreté, Equine therapist (basic equine osteopathy and rehabilitation)
Before she could walk, she already sat on horseback.
She is training horses from the base up to High Level and has been working with different riders and horses for more than 25 years. She is a Master Teacher of The School of Légèreté, this classical training concept excludes any use of force or coercive artificial aids. She studied at the Holistic Health Centre Equo Vadis in Germany the subject's rehabilitation training for horses and equine osteopathy. She was giving clinics in Australia, New Zealand, USA, Canada, Czech Republic, Sweden and Germany.
Besides teaching classical riding, her main interest has always been animal behaviour and intelligence. To make herself understood to horses, and training them, while respecting their nature, led her to Equitation Science.
All equestrian work, whether it is in liberty, in hand or in any discipline under saddle needs a sound foundation. That foundation should consider every horse and every person as unique. Melanie is resolutely using the principles of learning theory, but also environment, personal history, physical abilities, diseases and other factors affect humans and horses alike. Thus, only a bespoke training that takes these influences into account can do justice to each horse–rider pair.
For Melanie having a horse is going on a journey with another sentient being. She describes herself as an equine coach and a life time student of the horse at the same time.
SERVICES:
Foundation training
Advanced Dressage training
Retraining
Rehabilitation training
Online training
Behaviour modification
Lectures
Lessons/clinics