Monika Barna, Oxfordshire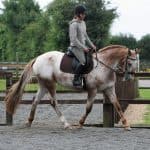 Monika Barna, Oxfordshire
Diploma of Equitation Science
My passion for horses started when I was 9 years old when I first found riding at a local trekking centre in Hungary. Throughout the last 30 years I have gained experience in many different aspects of the equine industry, working with many different types and breeds of horses in various disciplines.
My experience, coupled with knowledge gained from the Equitation Science course, enables me to train horses in a structured way following evidence based methods. This is achieved by providing an environment for the horse that is clear, controllable, predictable and consistent. These methods have proven successful with all of the horses I have worked with, providing a positive environment for all involved.
Equitation Science is about training horses by how horses learn, understanding their behaviour and biomechanical needs, therefore their safety and welfare is maximised.
Services I offer:
Groundwork
Foundation training
Re-training horses with behavioural issues
General training/exercising horses
Trailer loading
Habituation to vet/farrier/clipper/hose etc
Coaching for owner/rider
Please call or email on the details below, I am happy to discuss your needs prior to visiting.