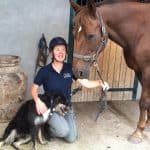 animalbehaviourclinic@gmail.com
Diploma of Equitation Science, MVB, MSc, PhD MRCVS
Orla began riding as a child, competing on her own and other people's ponies, exercising racehorses and generally spending as much of her life as possible around horses. Continuing this passion, Orla competed in showjumping, dressage and eventing as an adult, and continues to ride on a regular basis. Her fascination with the mind of the horse led to exciting opportunities to assist with research projects at Auburn University, Alabama (equine learning) and Cornell University, New York (equine transport).
In 1992, Orla qualified as a veterinary surgeon from University College Dublin (UCD) before completing a Masters Degree in Applied Animal Behaviour and Animal Welfare at Edinburgh University. This was Orla's first exposure to Learning Theory, the study of how the animal learns, and led to Orla setting up a veterinary referral behaviour clinic (the Animal Behaviour Clinic) treating problem behaviours in horses, dogs and cats, while initially also working in general practice. The application of learning theory to understanding horse-rider interactions, and behaviour problems in the ridden horse is a recent development, and on coming across the work of Andrew McLean in 2007, Orla travelled to Australia in 2008 to study his research and work, and was very excited to discover that his work advances the understanding of many common behaviour problems both in-hand and under saddle, and provides ethical and evidence-based methods of addressing problems, methods which work because they align with how the horse learns rather than through the use of fear or coercion. Orla has visited the AEBC on several occasions to further her knowledge and complete the Diploma in Equitation Science.
Alongside working to complete the Diploma in Equitation Science, Orla completed a PhD in 2016 studying the pressures applied by commonly used tack, in particular the noseband, and has published her findings in international scientific journals. Orla is currently associate lecturer at UCD and guest lecturer at the University of Limerick, lecturing on behaviour, welfare and behaviour problems, as well as lecturing internationally on tack related issues. Orla runs and organizes lectures, workshops and clinics on equine learning and training and treatment of behaviour problems for owners and riders in Ireland. Orla also carries out consultancy work in Dublin zoo, carrying out research projects and assessing and advising on the welfare and behaviour of elephants and other species.